On behalf of all of the team we would like to welcome you to Thornton & Lee, a team of Independent Social Workers and Mental Capacity Assessors, located conveniently around England and Wales, who pride ourselves on kindness. Our approach to specialist assessments and services are person-centred, and always professional. Our team are fully qualified, insured and experienced Social Workers, in addition to holding a current registration with Social Work England.
Our team members at Thornton & Lee have extensive experience working across Adult Social Care, working with highly complex presentations and diagnoses. We specialise in assessing and working in partnership with those experiencing dementia, brain injury, Korsakoff's, physical disability, stroke related dementia, and much more. This includes completing assessments with those who have additional needs, such as communication, visual or hearing impairments. We all hold a strong interest in the area of mental capacity, sharing a common devotion for representing, and when required, protecting those who may be vulnerable. Our Independent Social Workers have a significant level of experience and a high skillset that enables us to deliver the highest quality of holistic assessments.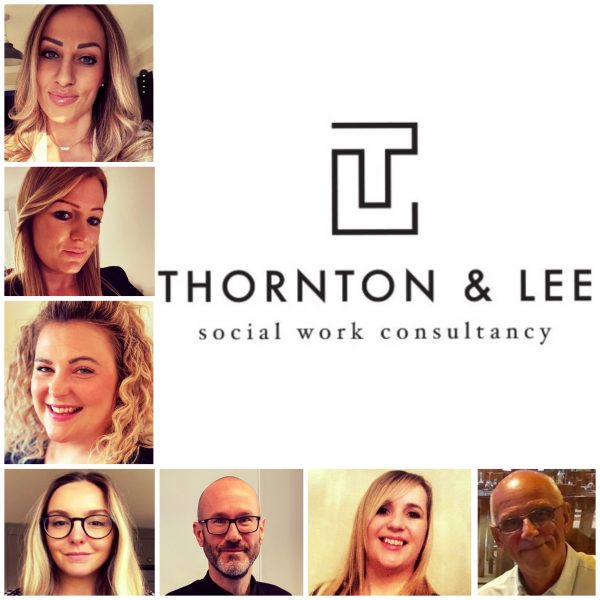 Founding members of Thornton & Lee; Rebecca Thornton and Faye Lie-Critchley met as practicing Social Workers in a busy acute hospital team in 2016; before going on to co-manage the hospital Social Work team together. Rebecca and Faye personally oversee and quality assure every single assessment completed by our team, in addition to being very much public facing and hands on with undertaking assessments. We are relentless perfectionists, who want to get it right for you, our client, every single time.
We welcome referrals from both professionals and members of the public
Rebecca Thornton - Managing Director
Consultant Social Worker Rebecca qualified as a Social Worker in 2010, then joining a busy community team working with adults with complex care needs. Rebecca has also worked as a Specialist Neurological Social Worker in a brain injury hospital, where she became an expert in assessing more complex mental capacity, and executive mental capacity, and securing NHS Continuing Healthcare funding. Rebecca has extensive experience of working with those with substance misuse concerns, and those experiencing mental health difficulties. Rebecca is trained in chairing complex Safeguarding Planning meetings, and Best Interest meetings. Rebecca has also worked as a Social Work manager in both an acute hospital, and an adults community team.
Faye Lie-Critchley - Managing Director
Consultant Social Worker Faye began her career working with adults with learning disabilities. Faye has worked in a centre for those experiencing domestic abuse, facilitating group therapy, in addition to providing one-to-one support. Faye has also worked in an acute hospital as a Social Worker, specialising in working with those experiencing dementia and challenging behaviour. Faye is an expert in working with those with neurological disorders, and in all adult safeguarding matters, although she takes a particular interest in financial safeguardings. Other accomplishments include the highest level of skill in contributing to NHS continuing Healthcare Assessments. Faye has also led as a manager of several Hospital Social Work teams.
Dr Jason Corner - Guest Expert Mental Capacity Assessor
Jason is a Registered Mental Health Nurse qualifying with a 1st Class BSc in Mental Health Nursing in 2019. Jason also has a Postgraduate Certificate in Dementia Studies, an MSc in Clinical Research, and a Doctorate in Health Sciences. Jason is the Course Director for the MSc in Mental Health Nursing at a local university. Jason is a specialist in the mental health of older people, in particular those with a diagnosis of dementia. He teaches undergraduates and postgraduates a range of topics relating to mental health, with a particular focus on the assessment and diagnosis of dementia, mental state examination and the assessment and use of the Mental Capacity and Mental Health Acts.